Natural remedies and alternative substances often spark curiosity and debate, and kratom has taken center stage in one such debate in the USA. You've probably come across it online (you can buy bulk kratom online with just a few clicks after all) or in a local shop.
But is kratom legal in the USA?
Here, we'll explore the intricacies of legality, answering questions like "in what states is kratom illegal," the reasons behind its regulations, and what the future holds for this herbal product. While you can use the herb almost everywhere in the USA, there are some exceptions too, where a kratom ban may hinder you.
Let's get started!
In What States Is Kratom Illegal As Of 2023?
While it remains unrestricted at the federal level, various states have chosen to impose regulations, age restrictions, or outright restrictions on kratom. So, it's important to know what states have banned kratom so that you can avoid trouble.
Here's a comprehensive list of states where kratom is illegal:
Alabama

Arkansas

Indiana

Rhode Island

Vermont

Wisconsin
There Might Be Local Restrictions Even In States That Otherwise Allow The Herb
Some local jurisdictions within otherwise kratom-legal USA states have chosen to impose restrictions. Even if you live in a state where kratom is technically legal, you must explore its local status to avoid any trouble.
Here are some areas that defy the kratom legality by state:
San Diego, California:

Kratom is legal in California, but the city of San Diego has chosen to ban the sale and possession of kratom within its limits.

Denver, Colorado:

Denver has imposed regulations that prohibit the sale of kratom for human consumption.

Jerseyville, Illinois:

In Illinois, kratom is generally allowed for those over the age of 18. However, within the city limits of Jerseyville, it is banned.

Sarasota County, Florida:

While most of Florida permits kratom, Sarasota County does not.

Union County, Mississippi:

The majority of Mississippi allows the use of kratom, but Union County is an exception to this state-level

kratom law

.
Of course, these are just a few examples; other local jurisdictions may have their regulations. Be sure to check with the local authorities or retailers to ensure compliance with local laws.
Let's Take A Look At Kratom Legality By State In The USA
So, can you buy kratom in the USA? For most of you, the answer would be yes (although not for all), as the herb is widely accepted in the country with only a few exceptions at the state level. If you live in one of the following states where kratom is legal in the USA, you shouldn't have any trouble (save for any local restrictions or regulations):
Alaska

Arizona – KCPA (Kratom Consumer Protection Act) passed

California – Except in San Diego

Colorado – Except in Denver

Connecticut

Delaware

Florida – Except in Sarasota County

Georgia – KCPA passed

Hawaii

Idaho

Illinois – Except Jerseyville; otherwise, you must be over 18 years old

Iowa

Kansas

Kentucky

Louisiana

Maine

Maryland

Massachusetts

Michigan

Minnesota

Mississippi – Except in Union County

Missouri

Montana

Nebraska

Nevada – KCPA passed

New Hampshire – Legal for those over 18 years old

New Jersey

New Mexico

New York

North Carolina

North Dakota

Ohio

Oklahoma

Oregon

Pennsylvania

South Carolina

South Dakota

Tennessee – Must be at least 21 years old

Texas

Utah – KCPA passed

Virginia

Washington

West Virginia

Wyoming
What Are Some States And Local Territories Reluctant To Legalized Kratom?
Kratom's status is a topic of ongoing debate and regulation. Several factors contribute to the variation in kratom's status across the United States, and kratom is legal in the United States mostly with only a few exceptions. But why do some states not want to legalize the herb?
Here's a closer look at some of the factors at play:
Perceived Health Issues
States where kratom is illegal perceive it as a safety concern. Critics argue that kratom can have adverse health effects (if one takes too much), including potential addiction and side effects. The Food and Drug Administration (FDA) has also not categorized it as a therapeutic herb, which further complicates nationwide acceptance.
Lack Of Regulation At The Federal Level 
At the federal level, there's no standardized oversight for the production and distribution of these herbal products. This lack of regulation has led some states and municipalities to take matters into their own hands by imposing restrictions to safeguard public health.
Local Jurisdictions
Local governments within states can also impose their restrictions on kratom. Even in states where the herb is allowed, cities or counties may choose to regulate or prohibit its sale or possession.
The kratom laws are not static and may change over time. The debate surrounding its acceptance is complex, but advocacy groups like the American Kratom Association are voicing their concern fervently. While the concerns surrounding its safety and regulation persist, perhaps evolving knowledge about the plant's potency and proper use may lead to broader acceptance.
Is Kratom Legal To Buy Online Where I Live?
The online marketplace has become a hub for people seeking products like kratom powder, but the legality of purchasing these herbal products online is not straightforward. Kratom's status is a subject of varying regulations and restrictions – we've already discussed what states ban kratom.
Plus, there are local kratom laws too, that count!
At the federal level in the United States, it is not classified as a controlled substance, meaning it's generally allowed to buy and sell across state lines. However, this lack of federal regulation also means that there are no standardized quality control measures in place.
Who's to say you won't end up with an adulterated product?
We also saw that while federal law may permit the sale of these herbal products, individual states and local jurisdictions have the authority to impose their restrictions. This means that even if it's technically legal at the federal level, there are tighter kratom laws in some areas.
Even if it is perfectly legal in your state, you should exercise caution and buy only from reputable vendors who adhere to quality control and testing standards. Plus, there are age restrictions in some states, which apply to online purchases as well (the site will ask you to tick a box to verify your age before letting you browse through their collection).
Buying locally is one thing, but importing it from other countries can be subject to a whole different set of kratom laws and regulations. Be sure to check whether your state has specific rules regarding the import of these herbal products, especially if you're purchasing them online from international sources.
How Can I Know If Kratom Is Legal Near Me?
Now that you know the answer to "is buying kratom online legal," how can you know for sure that if you place your order, you won't get into trouble? Well, that's where due diligence comes into play. Be sure to research the legality of kratom in your area; brush through the specific regulations governing your state and local jurisdiction.
Start by checking your state's legislation regarding these herbal products, and be mindful of any age restrictions that may apply. If you've tried your best but are still not sure, it's best if you consult local authorities or legal resources. If that makes you feel uncomfortable, reach out to an established vendor who is well-versed in the kratom laws of your region and ask them!
Visualize The Landscape With This Color Coded Kratom Legality Map
Lists can be overwhelming – yes, we get it! Here we've shared a kratom legal state map that outlines the varying regulations by state, making it easier for you to understand the regulations concerning these herbal products. Keep an eye out for the red ones – those are the kratom-banned states: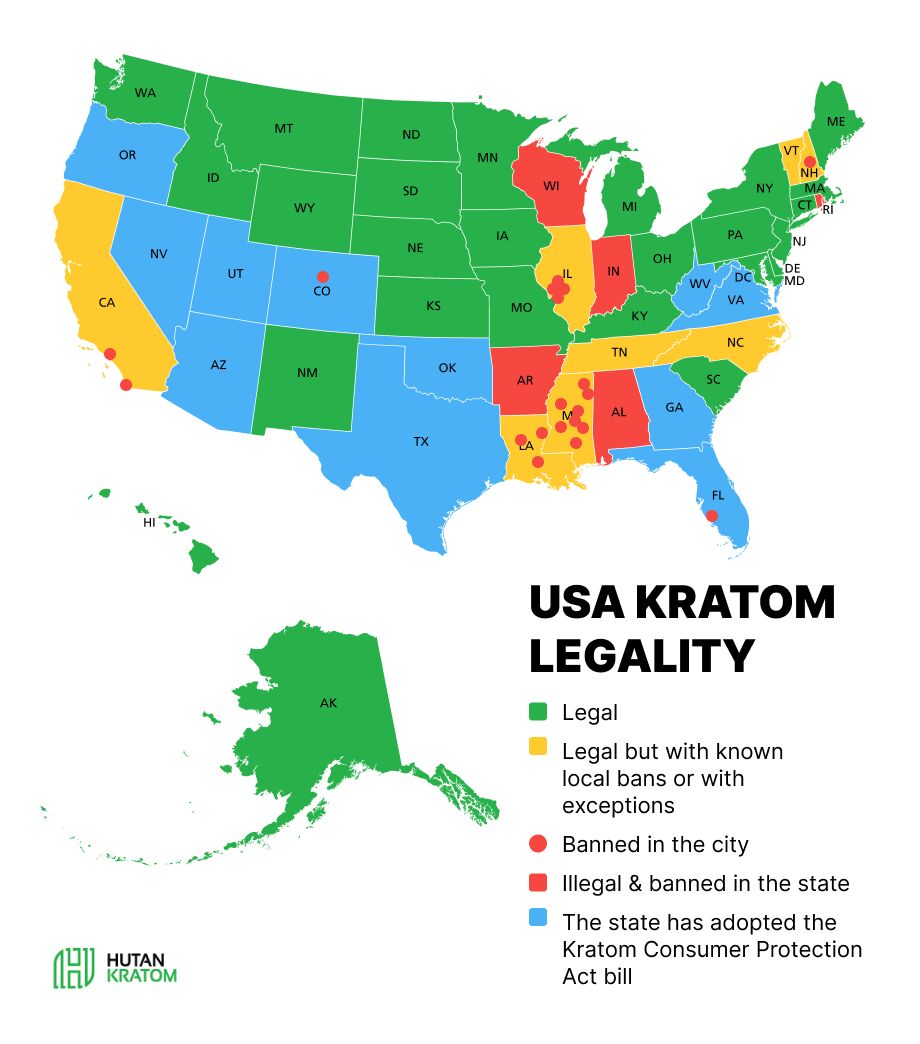 We Have Some Positive Future Predictions Of Kratom In The USA!
The future of kratom laws by state in the USA is promising. As the scientific community delves into the potential benefits of this herb, we might see increased regulation and widespread legalization. Organizations like the American Kratom Association are also actively advocating for its continued legality and promoting accurate information. Efforts from grassroots organizations like the American Kratom Protectors also aim to fight restrictive kratom laws, push for regulatory measures, and encourage support for these herbal products.
For now, we can only wait and hope for the best!
Hutan Kratom Is A Name You Can Always Trust!
Kratom laws in the USA are evolving, and as this herbal substance gains more recognition, we must stay informed about local regulations and ongoing research. The potential well-being benefits of kratom are a focal point for its advocates, and this may lead to wider normalization.
Putting all this regulation talk aside, you probably need a vendor you can always trust. That's us at Hutan Kratom! We provide high-quality kratom, accept credit cards, and offer free and fast shipping. Explore our wide selection of premium products now and experience the difference.
Shop with us today and enjoy the best rates and quality in the market!
Sources: