Hutan Kratom is a vertically integrated company that controls the entire supply chain and guarantees that you get only the best kratom pre-workout every time you place an online order with us.
Buy the Best Kratom Pre-Workout
Discover the Benefits of Top Quality Kratom Pre-Workout for Sale!
If you are trying to boost your energy levels in a natural way, try kratom for sale before any training session. Using kratom pre-workout will help you feel good and energized without the sensation of burnout and running on empty. Many people are resorting to this natural product because they want to push their limits in a safe way without taking steroids or other dangerous substances.
Over the last few years, an increasing number of users have praised the effect and benefit of kratom pre-workout. They took kratom first to feel more energized for work at the office. But then they realized that they could experience the same energy boost when they go to the gym or jog around the block.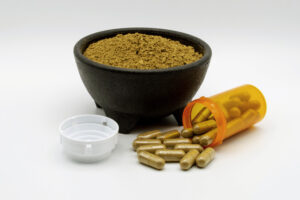 What Is Kratom Pre-Workout?
Kratom has many varieties and strains, but only some of them are recommended for increasing energy levels. So far, frequent users say that the best kratom pre-workout is:
Green Malay – this strain contains high levels of mitragynine, which gives you a quick energy boost 

White Maeng Da – if you want a moderate energy boost, this is the best

kratom pre-workout

to buy. It also has a calming effect, perfect for working out after a stressful day

White Bali – this kratom variety offers both high energy and a boost in endurance.
Where Is Kratom Pre-Workout Manufactured?
Kratom is harvested by experienced people in Southeast Asia, especially in Malaysia, Bali, and Thailand. After it is dried according to precise rules for each strain and vein, kratom is made into a fine powder or in capsules.
At Hutan Kratom, we take care of dosage and packaging, making sure that each product is clearly labeled and offers users complete and accurate information. All kratom pre-workout we import is brokered directly with the producers.
How Much Kratom Pre-Workout Should I Use?
Dosage is not a clear-cut aspect. Beginners will feel the effect of kratom pre-workout after the smallest dose (1-2 grams). Also, you can increase the potency of kratom pre-workout if you add it to your sports drink.
We recommend our clients start with a small dose, wait around 20-30 minutes, and decide whether they are experiencing the desired effect before taking more.
Kratom Pre-Workout Benefits after a Busy Day
Kratom is a very versatile natural product. You can take kratom pre-workout and enjoy benefits after the workout, as well. Many people report feeling calmer, more relaxed, and with an improved mood.
It is important to remember that these effects depend on the dosage, the kratom vein, and the user. For example, the same kratom strain that gives you energy will make you drowsy if you take a larger dose.
Buy Kratom Pre-Workout with Traceable Origins!
Not all kratom pre-workout for sale is what the label says. While it is still a novelty on the market of natural products, many companies take advantage of selling various substances that are not kratom.
At Hutan Kratom, we control the entire supply chain. From the place of origin to the packaged product you buy, kratom for sale from us is the real thing.
As direct importers, we also offer our clients other benefits:
Nationwide delivery

Free shipping

Low prices.
Get the best kratom pre-workout from a trusted source! Create an account, and you can pay with a credit card for your orders!